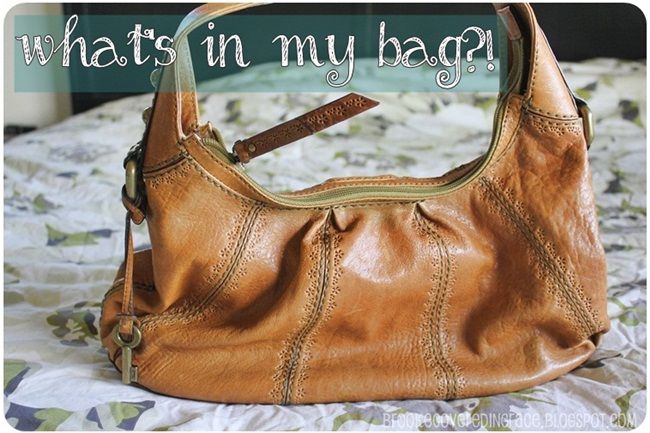 I love my purse. I admired that thing in the store for a year and a half before I finally decided to go ahead and buy it.
I wish I could say that I got it on sale since I waited so long...but I didn't...and I don't care, hehe.
I wish I could say that I keep it neat and organized...but I don't.
It, like every other purse that I've ever carried, has been dubbed the black hole by my family. I'm afraid they're right.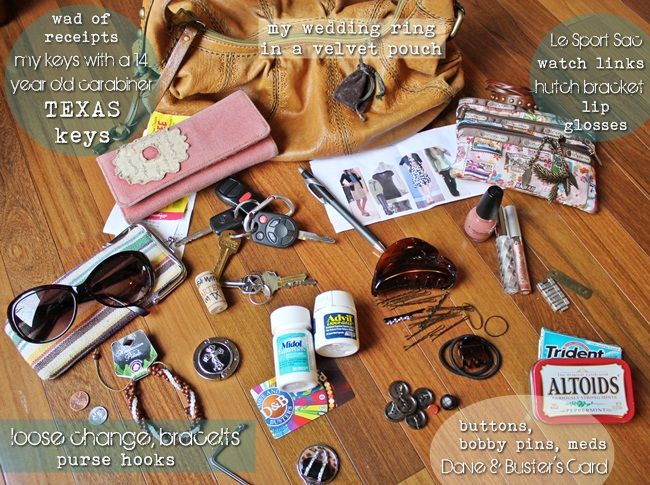 Yah, that all came out of my purse. Everything you see above was loose, just floating around, in the black hole.
I was actually surprised at how few receipts I found floating around in there! And was happy to find all the bobby pins. Riley was excited that I found her missing rhinestone bobby pin, and I am now reminded that I need to sew all of those buttons back onto my coat.
My wedding ring, that I adore and will have to write about later, is living in that pouch right now until I can remember to take it in for repair. I've had that ring now for almost 13 years.
 Speaking of that man....
Don't we look so young in that photo?! I've kept it in my wallet for a long time now.
No idea why I still have that photo of my grandparents in my wallet...or why I put it right back in... but they are so precious. They have such a wonderful love story. One day, I'll have to share how they had the entire Paris International Airport SHUT DOWN!
2nd Girl Behind the Blog Vlog
.
Tif
, if you're seeing this... first of all: thank you so much for the sweet little purse hook. I use it all the time!! Second: I meant to give you that bracelet at coffee back in October. =/   Be expecting a package from me sometime in the near future. Hehe. So... that's what's in my bag! I am proud to report that I did some major cleaning out and organizing, and it now looks only a fraction as bad as it used to. =D What's in your bag? If you post it up, leave a link in the comments!