It's time to take A Look Back. Dig out your old photos, dust off your old memories and share what you were up to in 1990. Then grab a button [below] and link up either here, or with 
Shaping Up to Be A Mom
, 
The Houtz House Party
, or 
Absolute Mommy
. We can't wait to see what you have going on.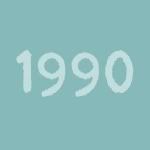 I turned 8 in 1990...thus entering my favorite decade. I am a 90's child through and through. I love the music, the clothes, the makeup...all of it. Even though I didn't get to participate in the real 90's grunge era until the second half of the decade, I consider myself a cranberry lipstick, slicked-back ponytail, flannel-wearing, overalls and construction boots kind of girl. Grunge music is part of my soul. And I love me some Salt n Peppa.


So now...onto my eight-year-old-self...along with my CAute brother and sisters.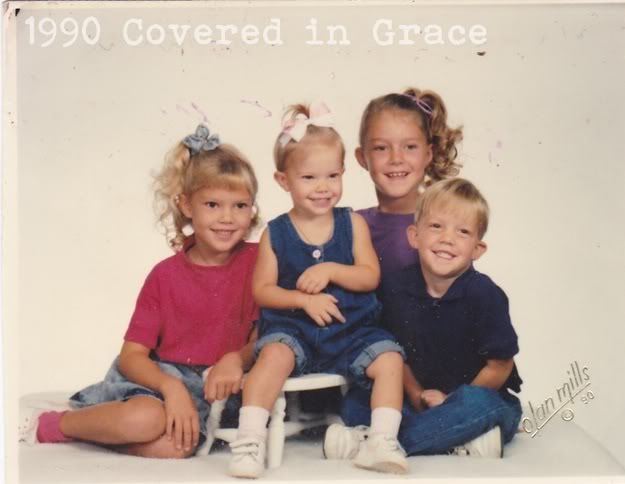 This is one of the most famous photos of us all. It's early 1990. I loved that sunglasses clip. Back then, I rocked purple. Now days, however, I don't really wear much of it. Aren't my little siblings adorable? Tiffany (in the pink) is the only one who has maintained the blonde hair. The rest of us are now sporting some brunette locks.
Summer. 
I love it. 
This photo was taken at a family reunion. Last month, I talked about these awesome get-togethers. Sheldon was absent then...his arrival in '90 completed the Hearron family (for the time being.) He made the 12th grandchild for my Papa Bill and Grandma...whose, by the way, birthday it is today!! Happy Birthday Grandma! I love you. 
Anyways... Sheldon is the little bebe on the very left eating his hands. My brother is the cutie in the white shirt on the ground. Tiffany is the blondie- top right in the pink, Tracey is the toddler on Papa Bill's knee with the pig tails and the red & white jumper... and I am the super cool, brace-face in the purple and white striped shirt next to grandma. 
Which reminds me... I had braces in 1990. Just two brackets...on my top two middle teeth. I liked to change out the bands and sport different colors all the time. Mom wasn't happy when I chose the black and lime green ones...just in time for the family church photo. Haha!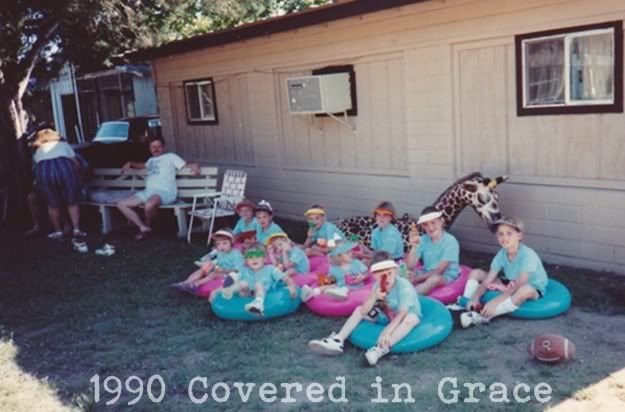 And here we all are again at that same family reunion. I'm the one next to the giraffe's head, sitting in the pink inner tube. Fun. That's Uncle Mark back there on the bench rocking a late-80's mustache. Ha!
Mmkay...
Now it's your turn! Where where you in 1990? 
Grab the button below for your post and
link up with the rest of us ALL WEEK. 
We can't wait to see what you remember!