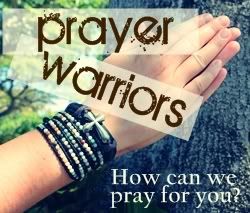 The power of prayer is amazing.
God is listening. Always.
We have been called to love. To love others as Christ has loved us.
To approach each day and each person that we see with loving eyes, a peaceful heart, and a sound mind.There are so many ways to love God's children. Each and every one that he has created.
One way to do that....is prayer.
Every day we log onto Facebook*Twitter*Email*Blogs
There are always new photos, updates, jokes, quotes, complaints, celebrations, triumphs, hardships, losses, invitations, cries for help...for support...
What if we said prayers for those that ask for them, right then and there. What if we close our eyes and bow our heads and put everything else out of our minds. And for that tiny moment, it is just us and God, talking about our friends.
These prayers are good. The ones that people ask for. And I believe that God fervently hears them. He hears every little, tiny utterance we  make every single day. Even a simple, "Be with my friend." God hears that and knows your heart.
It is good to pray for those that ask for prayers. They need them.
But...what about those that don't ask for prayers?
The ones who are calling out for someone...something... without really saying "help."
I just had the wost day ever! Traffic! Ugggg.
Sick, sick, sick. I sure hope this cold goes away soon.
Can't a girl catch a break?! I can't seem to win.
Those are cries for help. Even if they don't realize it....if they say they're just venting....they are still PRAYER REQUESTS. Those people need the "Be with my friend" prayers. They need guidance, strength, support, love, patience, peace.
They need a brush with God.
A glimpse of His Glory.
They need to feel His presence and recognize His might!
In those moments when they are crying out...we can fight for them.
We can be warriors for them.
The power of prayer is so amazing, so real, so strong.
It is so because God is so amazing, so real, so strong.
We have the ability to petition God on behalf of our friends. Real, authentic, genuine prayers don't have to sound poetic or formal. They only have to be heart-felt. What an amazing thing to be able to do for our friends.
My vision for Prayer Warriors is that bloggers around the world will come together in prayer and unite for the Glory of God. I'd like to create a web of Prayer Warriors that reaches far and wide and always toward Heaven. A group that others can reach out to in times of need.
If you'd like to be part of the Prayer Warrior Web, click
HERE
to find out more.